APR World Class Calibration Expertise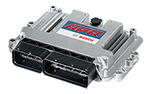 Tuning 101:
The 1.4T engine uses a Bosch MED17 ECU for engine management. Basically, it's a computer that tells the engine how to operate. Tuning software, like the APR ECU Upgrade, tells the engine how to make more power. It does this by running more boost pressure, optimizing the cam shaft positions, adjusting the air/fuel ratio, advancing ignition timing, and more.
A Better Engine Management System:
The 1.4T's ECU is incredible. Without the driver knowing otherwise, the ECU makes intelligent adjustments to the engine's operations to keep it running smoothly. Unlike ECUs found in many other makes and models, when properly tuned, the ECU eliminates the need for custom tuning to maximize output, even when weather conditions change dramatically.
How APR Differs from the Competition:
The ECU is powerful, but extremely difficult to master. Without mastery, the ECU must be simplified, removing what makes it so desirable. The result is an incomplete product that often requires end user adjustment to maximize output in limited scenarios. On the contrary, APR's Engineers spent years mastering the ECU to unlock its full potential. With complete access to the thousands of maps, tables and variables within, as well as a high-level understanding of how it works, APR's Engineers were able to take advantage of everything the ECU has to offer. Power is maximized in nearly all scenarios, eliminating the need for end user adjustments. High performance operational modes are enabled and calibrated to deliver smooth daily driving, with a snappy and responsive throttle during moments of spirited driving. Lastly advanced high-output protection routines are enabled, allowing the ECU to make constant adjustments to airflow and fuel to cool and protect the engine, all without the driver knowing otherwise.

Acceleration Enhancements:
Beyond horsepower and torque enhancements, APR's Calibration Engineers were able to increase the acceleration rate of the vehicle through other calibrations changes. Ignition delay is reduced resulting in a more responsive pedal without altering overall throttle sensitivity. Furthermore, throttle lag commonly noticed at slow speeds and while reapplying throttle has been reduced.
Speed Limiter:
APR's ECU upgrade increases the vehicle's top speed limiter for blistering sprints around the track or across the Autobahn without the speed limiter shutting down the fun.
Increased Fuel Economy:
APR's Calibration Engineers paid close attention to several parameters directly related to fuel economy, especially while cruising at highway speeds. Depending on driving style and fuel quality, better miles per gallon may be achieved.