APR MK6 Golf R RSC Exhasut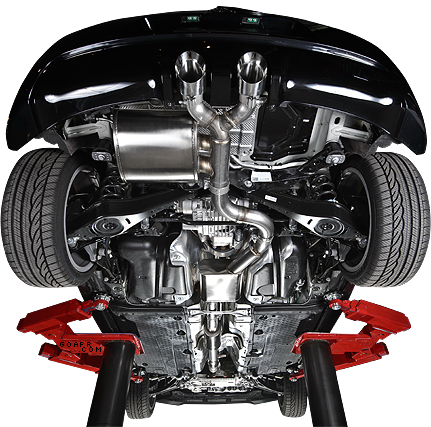 About RSC™ Technology
RSC™ Technology is now available for the MK6 Golf R in our newest 2.0T RSC™ 3" Performance Exhaust System. RSC™ or Reflective Sound Cancellation allows for maximum exhaust gas flow while completely eliminating unwanted in cabin sound resonance known as "drone". Reflective Cancellation bounces the undesirable sound waves into each other to attenuate the wave and eliminate the low frequency tones that create drone. Each RSC™ muffler is tuned to eliminate specific, undesirable sound frequencies allowing only the engine's true and desirable exhaust note to be heard and improving performance.
Exhaust System Features
3" Stainless Steel Piping
Torca Exhaust Clamps
Interchangeable Polished Stainless Steel or Diamond Black Tips
Double Walled and Rolled Tips Laser Etched with APR Logo
Lifetime Warranty
Video
Application Guides
Catback
Vehicle
Transmission
Drivetrain
Tip Option
Part
Price Exc. VAT
Price Inc. VAT
VW MK6 Golf R
6MT & DSG
4-Motion AWD
Polished Stainless Steel
CB100056A

€

1449.00

+ Local Tax

VW MK6 Golf R
6MT & DSG
4-Motion AWD
Diamond Black
CB100056B

€

1549.00

+ Local Tax
Universal 76mm Catback Fit Kit
For compatibility with most 76mm downpipe exhaust systems, a 76mm link pipe must be installed between the downpipe and catback. APR's universal fit kit includes a 200mm link pipe and clamp that can be cut to length for compatibility across a wide range of systems.